Ann Bolinger-McQuade
is a regular contributor to magazines, a popular workshop facilitator and radio talk show guest. Ann shares her curiosity and passion for discovering the hidden obvious and encourages us to tune into the guidance and support that surrounds us all.
Bolinger-Mcquade's perspective of the world as alive, nurturing and filled with personal oracles springs naturally from her Native American ancestry. As a child growing up in Kansas she was intrigued with the idea of having Native American ancestors, but never considered her heritage relevant to her life.
Her ancestral imprints began to emerge when a series of personal events that were triggered by her breast cancer diagnosis sent her hurling onto what she describes as an invisible moving sidewalk. (Imagine the people carriers in airports.) She believes that at certain times we all land on such a sidewalk, designed to carry us to a specific destination. This particular sidewalk transported her to a place where oracles that were hiding in plain sight seemed to magically appear at precisely the right time.
Ann coined the term personal oracles to describe those mysterious messages that guide and often comfort us, and in so doing illuminate an interconnected world that is tuned in and available to us at all times.
Ann makes her home in Tucson and Taos with the love of her life --- her husband Kenneth --- and her dogs Rusty and Pandora and a cat named Moon Boy. For the many blessings in her life she gives thanks.
---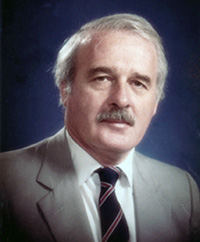 Kenneth Francis McQuade
is an aerospace engineer whose groundbreaking applications of technology have contributed significantly to the advancement of the United States space program and Twenty-first Century navigational equipment that is in use throughout the world. Born in London, England, McQuade had an interest in aviation at a young age when his father went to fight in World War II and his mother took him and his two siblings out of London to avoid the bombings to live with her mother in an apartment in Hatfield in Hertfordshire that was across from one of the country's largest aircraft manufacturers, the de Havilland Aircraft Company. After performing well in grammar school, Kenneth attended Hatfield Technical College and was employed at de Havilland and became an Associate Fellow of the Royal Aeronautical Society. In 1956, with his degree in Aeronautical Engineering in hand, Kenneth moved from England for a job in Canada with his first wife and their daughter and, after a few years in Canada, he accepted a position in the United States in the aeronautics division of North American and later worked with NASA, where he served as Chief Engineer on the first Space Shuttle. In order to meet security clearance requirements, he became a U.S. citizen in 1972 and his career expanded to include creating cutting edge technology with intelligence capabilities for the U.S. military. McQuade led teams to develop the first U.S. missile defense system, night vision and other classified systems and the GPS navigational system that is now a standard feature in cell phones and cars. Most of the divisions McQuade headed for Rockwell Aerospace were based in the United States, although his technical acumen was recognized internationally. When asked what he did for living, he classified himself simply as a businessman. In 1982, Kenneth met Ann Bolinger, whom he refers to as "the love of my life," and became a much-loved stepfather to her three children and adored grandfather to 15 grandchildren in the years that followed. He remains close with his new family in the U.S. and all of his family in England. Though Kenneth served as Ann's first line reader for
Everyday Oracles
and all of her articles,
Everyday Life-After-Life
is the first book he has co-authored. His profoundly scientific understanding of technology, space, physics, and quantum physics infuses each page of this manuscript. When Kenneth left his body on September 30, 2014, he stayed, and remains energetically and spiritually present, facilitating the communication of this material to his beloved partner, Ann McQuade, scribe and amplifier of the messages he conveys.