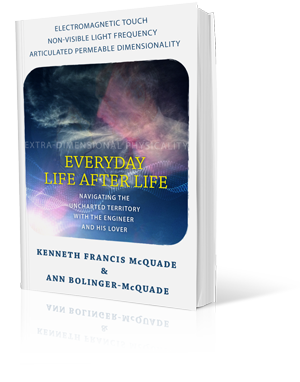 COMING SOON

If you enjoyed romping through EVERYDAY ORACLES and the accounts of personal oracles as they illuminated extra dimensions of Ann's life and the lives of others….

Now, join Ann and her engineer husband Kenneth on their journey as they navigate the uncharted territory of EVERYDAY LIFE AFTER LIFE.

Ann's meticulous photo documentation records the technology Kenneth engages to expand what had been their everyday interactions into what is now their extra dimensional life.

In keeping with Kenneth's belief, he reveals "there is always a way."Welcome to my interactive personal oracle website.
You've come to the right place to play in the clouds . . .
And discover your guidance and support that is out there hiding in plain sight, just waiting for you toS notice!

If you're new to personal oracles consider what the old Apache storyteller said when he reminded us:
"The plants, trees, clouds, rocks, fire, water are all alive.
They watch us and see our needs.
They see when we have nothing to protect us,
and it is then that they reveal themselves and speak to us."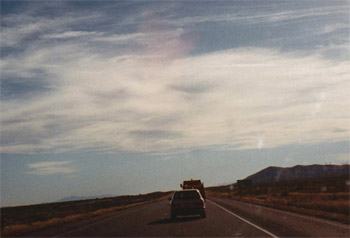 Protector cloud:
Before setting off on a journey with her husband Kenneth and their animal companions Ann offered up her routine request for a safe journey and then thought nothing more about it.
About half way into the journey her attention was drawn to this remarkable cloud image and she became aware of the strong sense of protection that was coming their way. This protector cloud remained in place directly above the highway and in front of her husband's car for thirty minutes or so. Ann was filled with gratitude for these measurable signs of protection as she watched the cloud and basked in the feelings of comfort and security, all the while thinking it was unlikely that she would ever know what "danger" they had eluded.
Within the hour a loud pop came from her husband's car that was traveling at high speed. His left back tire had blown out. Ann watched as Kenneth skillfully guided his car to the shoulder of the highway and came to a safe stop, assisted by hidden hands.
----------------------------
This is the dimension of our every day world that opens to us when we notice the universe is reaching out to guide and support us.
When we tune-in we can experience first hand that the paranormal or supernatural is simply a different energy frequency.
Discover how personal oracles may already be speaking to you.
Check out the tips and tools and learn how you can make personal oracles part of your everyday life
Exercise your psychic muscles in the interactive What Do You See section
Read other peoples amazing personal oracle experiences
Join our community of like minded individuals
Share your personal oracle experiences